The Best Coworking Spaces in NYC (2023)
Coworking spaces are on the rise across the globe, but nowhere more so than in the bustling metropolis of New York City. As rental prices soar and workers seek flexibility, coworking provides an affordable and stimulating alternative to the traditional office. From stylish spots catering to women to upscale retreats with luxury amenities, NYC is home to a wealth of top-notch coworking spaces suitable for any type of professional.
In this article, we explore the 5 best coworking spaces NYC has to offer. Whether you're an entrepreneur, freelancer or remote worker seeking a vibrant community and productive environment, these coworking spaces have you covered. Let's dive in and find your perfect fit!
1. WeWork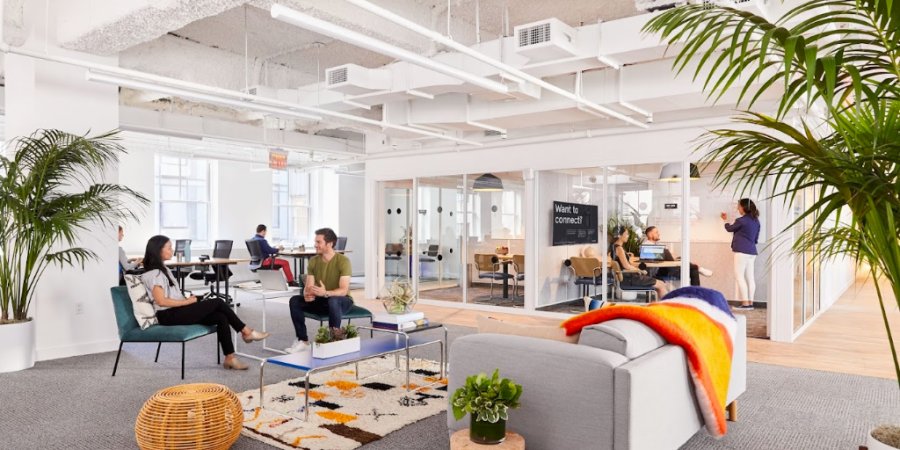 With over 40 locations scattered throughout New York City, WeWork provides exceptional convenience and flexibility with spaces in all shapes and sizes. Founded in 2010, they helped pioneer the rapidly growing coworking movement. WeWork's values revolve around creating a welcoming community and space where members can find meaning, make connections, and grow professionally.
WeWork locations provide everything from private offices to shared hot desks in aesthetic spaces filled with natural light, cool designs and thoughtful layouts. Standard amenities include fast wifi, printing services, conference rooms, kitchen areas with coffee and tea, and lounge spaces for networking or focused work. Members can access any WeWork location worldwide with their membership.
Popular NYC WeWork Spaces:
WeWork Bryant Park (54 West 40th St.): This conveniently located Midtown spot overlooks the lovely Bryant Park from 12 floors up. Floor to ceiling windows make it bright and open.

WeWork SoHo (154 Grand St.): Exposed brick, wooden beams and modern art give this seventh floor space an industrial chic vibe.

WeWork Times Square (1460 Broadway): Right in the heart of Broadway, this coworking space has a showbiz energy.
WeWork memberships start at $350/month for unlimited access to shared workspaces. Private offices are also available for teams or individuals who desire more privacy. WeWork's global community and impressive number of locations make it a top choice for flexibility and networking in the city.
Learn more at: wework.com
2. Industrious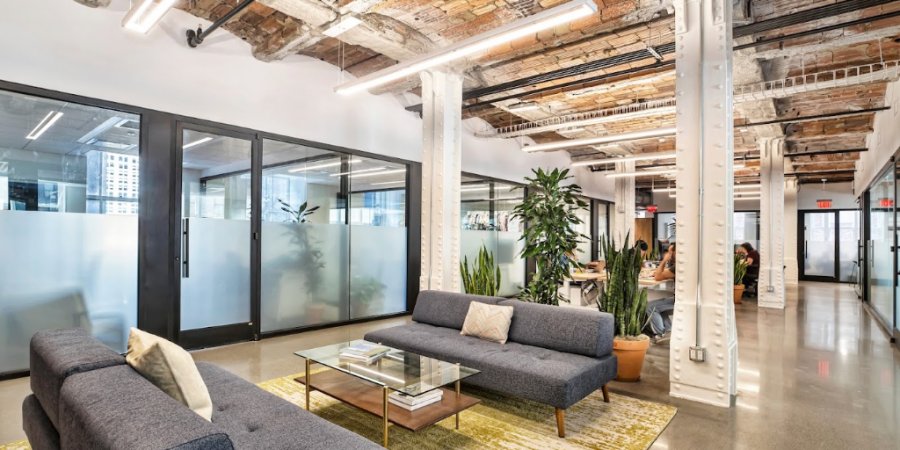 Industrious first launched in NYC in 2013 and has grown to over 15 locations in the area. While smaller than WeWork, they provide upscale coworking spaces focused on hospitality, thoughtful design, and community building. Industrious aims to blur the line between work and life with amenities like free meals and events, as well as a premium level of service and support.
Each Industrious space has an inviting, warm aesthetic with plenty of sunlight, contemporary furniture, and little details like plants and art. In addition to the standard meeting rooms, high speed internet, printing and office supplies, they offer programming like yoga, social hours and professional development workshops. Memberships provide access to any Industrious location nationwide.
Top Industrious Coworking Spaces in NYC:
Industrious Herald Square (1372 Broadway): This space is beautifully designed with a Scandinavian minimalist style.

Industrious Nomad (19 W 24th St): Located in the bustling Flatiron district, this location has a chic, modern feel.

Industrious Brooklyn Heights (81 Prospect St): The historic details like exposed brickwork give this Brooklyn space charm.

Industrious Bryant Park (16 W 40th St): Boasting stunning park views, this location is sleek and upscale.
Office suites start at $800/month per person, and $300/month for open coworking desks with the Collective membership. For collaborators who want an inspiring space to get down to business, Industrious checks all the boxes.
Learn more at: industriousoffice.com
3. Neuehouse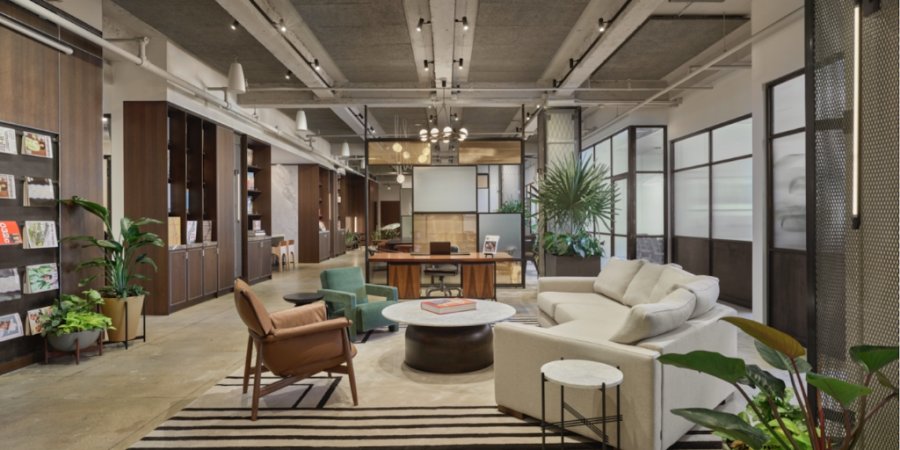 Neuehouse brings luxury, hospitality and elite exclusivity to the coworking scene. They are building beautifully designed spaces, primarily in NYC and LA, that foster creativity and meaningful connections at the highest level. Neuehouse spaces provide all the expected amenities of high end coworking, from conference rooms to printing to coffee bars. But the true highlights are the luxury design details, cultural programming and invite-only exclusivity.
A few things that set Neuehouse apart include:
Five star hospitality with concierge services

Regular talks, workshops, panels and events featuring boldface names. Previous hosts include Serena Williams, David Chang and Natalie Portman.

Exquisite architecture and interiors featuring works by top designers and artists. Think mediation rooms decked out in 10,000 hand strung crystals.

Libraries stocked with over 1,000 titles curated by McNally Jackson Books

Members-only restaurants providing creative cuisine from renowned chefs

State of the art wellness spaces, including infrared saunas, boxing rings and yoga studios.
Top Neuehouse Locations in NYC:
Neuehouse Madison Square (110 5th Ave): This space epitomizes luxury in the gorgeous landmark Flatiron building. The Rose Bar provides cocktails and bites.

Neuehouse Wall Street (180 Maiden Lane): Finance folks enjoy the exclusivity and prestige of this space.

Neuehouse Bradbury (304 Hudson St): The newest location in NYC features a striking marble spiral staircase.
Membership starts at $9,000 a year for workspace access and goes up to $36,000 annually for private suites. For well-heeled creatives seeking the ultimate refined coworking experience, Neuhouse delivers impeccable service and style.
Learn more at: neuehouse.com
4. Serendipity Labs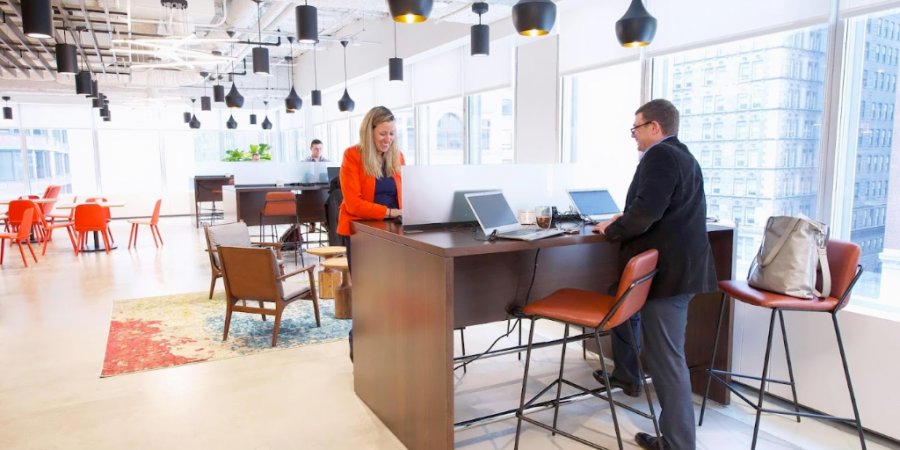 With spots across NYC, Serendipity Labs provides high-end coworking spaces on a flexible basis. They offer team offices, dedicated desks, and open coworking memberships based on actual usage rather than unlimited monthly agreements.
Serendipity Labs spaces are contemporary, tech-enabled, and hospitality focused. Amenities abound to maximize productivity and comfort. The pay-as-you-go membership model provides flexibility for those who don't need an office full-time.
Top Serendipity Labs NYC Locations:
Serendipity Labs Arts District (45 Main St, Brooklyn)

Serendipity Labs Hell's Kitchen (708 11th Ave)

Serendipity Labs Park Avenue (105 E 34th St)
Usage based pricing starts around $50/day for a desk. Offices and dedicated desks are also available to reserve in 4 hour blocks. For unrestricted flexibility without monthly commitments, Serendipity Labs is a great coworking option.
Learn more at: serendipitylabs.com
5. The Farm Soho
The Farm Soho provides a vibrant coworking community with two locations in NYC (Soho and Bryant Park). Founded in 2017, they offer flexible memberships and a unique "work from farm to table" environment.
Members can work from shared desks or private offices with monthly or annual passes. Amenities include meeting rooms, event space, high speed wifi, printing, and office supplies. Fresh, seasonal food is also available daily from their on-site farm.
The Farm brings a connection to nature into the hustle of NYC. Biophilic design elements like living walls, natural light, and greenery foster productivity and comfort. It's an eco-conscious coworking space option perfect for the health and sustainability minded.
Locations:
The Farm Soho (31 Crosby St)
The Farm Bryant Park (16 W 40th St)
Desk memberships start at $299/month. For a green coworking space that nourishes its members, The Farm Soho delivers.
Learn more at: thefarmsoho.com
Frequently Asked Questions About Coworking Spaces in NYC
What is coworking?
Coworking refers to a work environment where different professionals, teams and companies share office space and amenities in the same location. It provides an alternative to working from home or a traditional private office.
What are the benefits of using a coworking space?
The benefits of coworking include:
Networking opportunities by interacting with other members
Amenities like meeting rooms, event spaces, kitchens etc. that may not be available at home
Not having to worry about administrative tasks like coffee, printing, supplies
More flexibility than a traditional multi-year office lease
Ability to work in different neighborhoods if you use a workspace with multiple locations
How much does it cost to use coworking spaces in New York City?
Coworking costs can vary greatly depending on the operator, location and membership selected. In NYC, prices generally range from:
Shared desk or open coworking membership: $250 - $400/month
Dedicated desk: $400 - $800/month
Private office: $1,000 - $1,500/month
Upscale/luxury providers may charge $2,000+ for private office suites.
Keep in mind most spaces offer day passes so you can trial options first.
What should I look for in selecting a coworking space?
Key factors to consider when choosing a coworking spot include:
Location – Pick somewhere convenient to where you live and do business
Amenities – Consider what's most important: meeting rooms, event space, food options etc.
Community – Try to gauge the culture and if you'll mesh with members
Aesthetics – Some spaces are more stylish or design-focused. Pick a space you personally enjoy being in.
Flexibility - Look for month-to-month agreements if you may need to adjust membership
I'm an introvert. Is coworking still a good option?
Yes, many coworking spaces cater to introverts by offering amenities like:
Quiet spaces or private focus rooms to escape the hustle
Noise cancelling headphones and screen dividers for desk privacy
Meeting rooms for calls or video conferences so you don't disturb others
Lounges and coffee bars that allow you to be around people at your own pace
Coworking gives introverts the flexibility to balance social interaction and quiet focus time.
The Takeaway
Whatever your work style, personality or budget, New York City offers an incredible array of top notch coworking spaces. From the vast WeWork network suitable for any industry, to the specialized experiences at The Wing or Neuehouse, NYC coworking spaces enable collaboration and foster thriving communities of all kinds.
Next time you're feeling uninspired by your regular WFH setup, visit a nearby coworking space for a day pass to switch up your routine. You never know what exciting collaborations or career-changing connections await when you opt to work in an energizing coworking environment. Coworking provides freedom, flexibility and support to take your workdays from mundane to motivated.